Mountain Biking
We explore mountain biking trails that wind and carve their way through the beautiful highlands of Pennsylvania.  There is something for everyone here from the thrill-seekers  to those who prefer a more casual pace.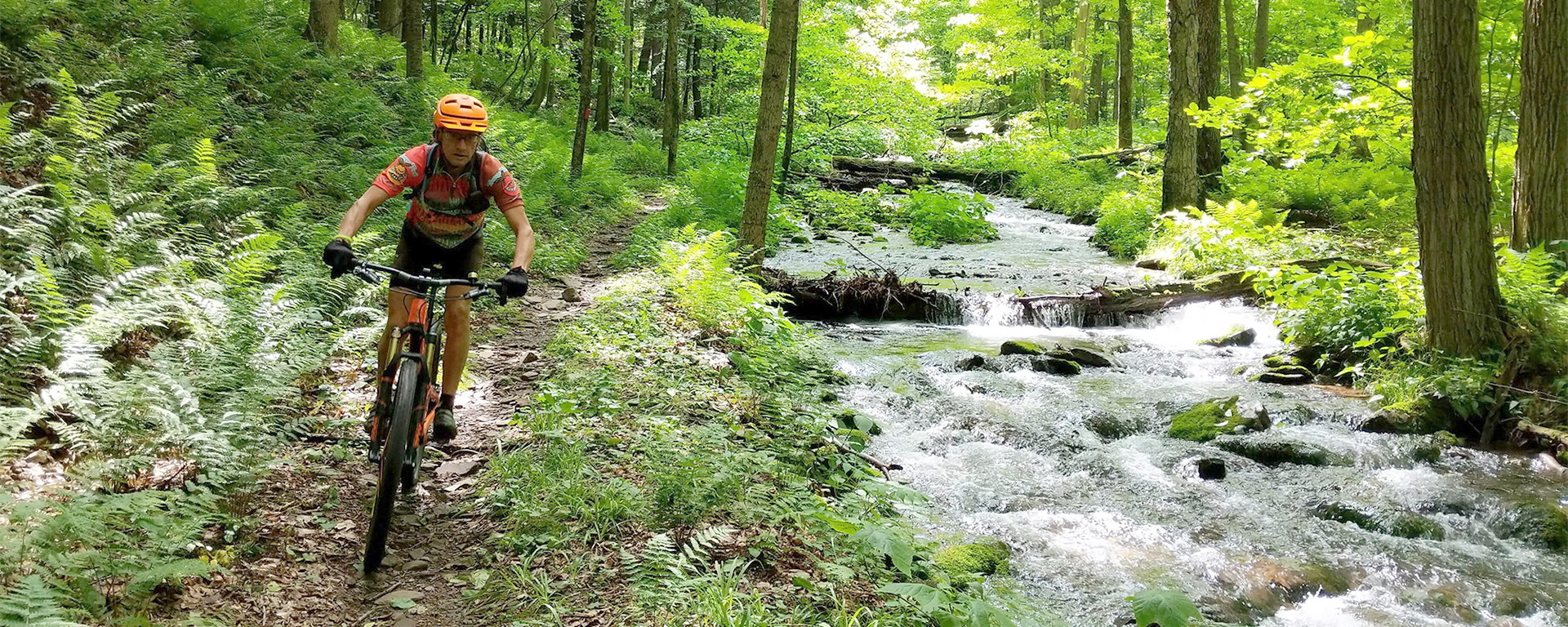 Year-Round Tuesday Rides
All level of riders welcome!
First Tuesday of the month – 5:30 p.m. Highland Park, Richland
Second Tuesday of the month – 5:30 p.m. Quemahoning Reservoir
Last Tuesday of the month – 5:30 p.m. Laurel Mountain State Park, Laurel Summit Rd. Boswell, PA
The other Tuesday rides are TBD and location and time will be emailed to club members prior to those days.
*All rides are weather dependent so keep an eye on your email Tuesdays for changes and cancellations.
What you can do to help report and resolve trail maintenance issues:
When riding trails in our region, if you find trees down on trails, areas that are growing in and need to be brushed back, or erosion or drainage issues, please contact the LHORBA Key Contact person for that trail system. Contacts are listed on this page.

Please get as much specific information as to where the maintenance is needed. If you can, drop a pin with mapping device. Or just note on your cyclometer the number of miles from a known intersection. When you contact the Key Person they will then know exactly where the work needs to be done.

If it is a tree down on the trail, please report whether or not a chainsaw or handsaw is required. A 6″ diameter is the cutoff point for a single log with a handsaw. However, if it's a large tree top with a dozen 4″ and 5″ limbs, a chainsaw may be required.

Please consider carrying a small, foldable handsaw when you ride. A lot of branches and trees can be cut with a handsaw instead of a chainsaw. Other trees or branches can be dragged off the trail. Please take time to do this when you encounter debris on the trails.

If you aren't able to take care of the issue at the time of your ride but would be willing to help in the future, please let the LHORBA Key Contact person know. They can always use more help with chainsaws, brushing back the trails, and dragging things off trails.
 
Thank you for helping to keep the trails clear!
2023 Schedule
Quemahoning Picnic – Sunday, June 4
th
Blue Knob Picnic – Sunday, July 9
th
Yellow Creek Picnic – Sunday, August 13
th
PORC/LHORBA Ride – Sunday, October 15
Full Calendar
Join the Club!
Outreach. Excitement. Diversity.
Join a group of other bike junkies and raise the fun bar!  LHORBA is a great example of what bike clubs can and should be.  It's full of bike-loving, fun, enthusiastic, happy people wanting to connect with other club members on fun-filled rides.  When you join LHORBA, you become a part of the area's premier cycling organization with access to events, information, and a network of like-minded cylists.
Join