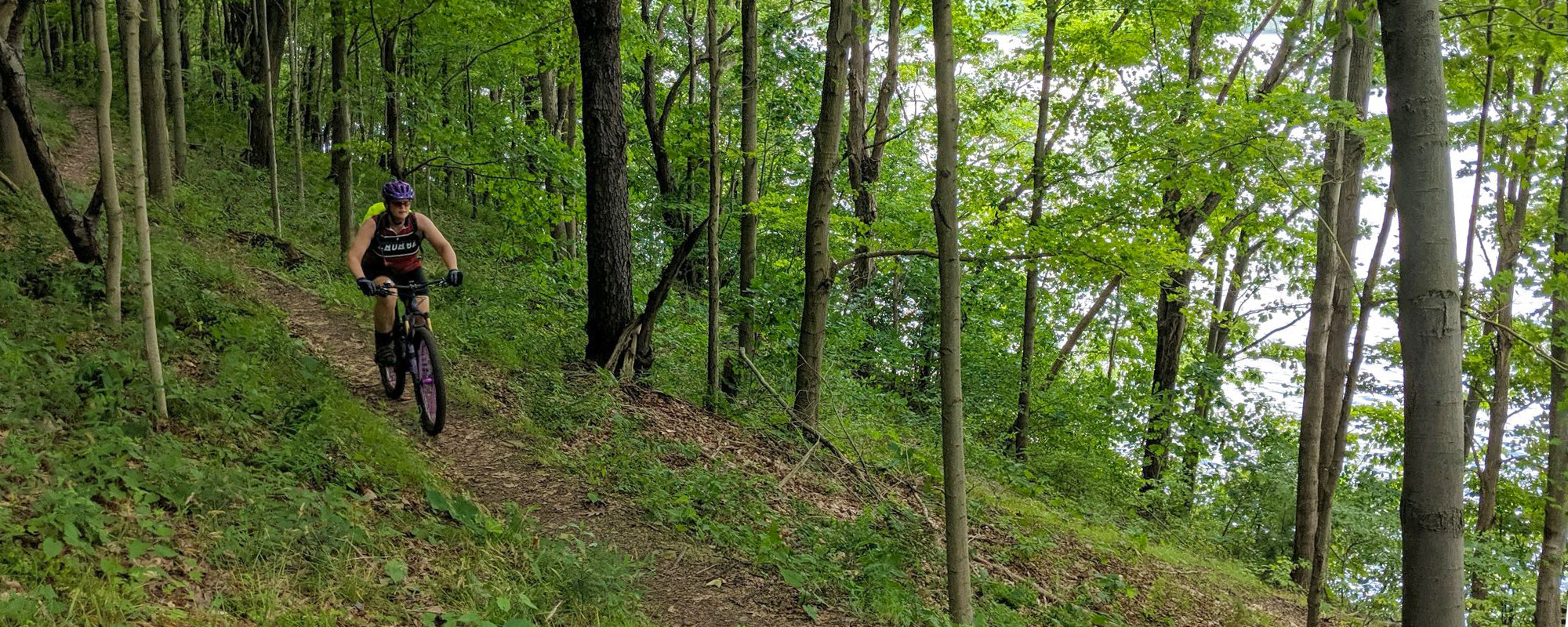 The Quemahoning Trails are slated to be around 37 miles of machine cut single track trail. As of October 2020 there are around 22 miles complete, close to 17 miles around the lake and another 5.5 miles of loops. Approximately 7 miles are planned in each of the next two years (2021 and 2022) that will complete the project.
The first 17 miles of trail opened in the summer of 2019. An additional 5.5 miles of loops opened in the summer of 2020.
There are several parking areas around the lake that will likely be improved and enlarged by the largest landowner, Cambria-Somerset Authority (CSA) starting in 2021. North American Hoganas and Stonycreek Township also own smaller sections of the trail.
CSA owns most of the land and the Laurel Highlands On & Off Road Bicycling Association (LHORBA) manages the trail. The trails are designed, flagged, and cut with an excavator by Clark Fisher, while the flagged corridor is cleared by Maher Contracting. Brad Clemenson with the Stonycreek-Quemahoning Initiative is instrumental in securing funding to build the trail. LHORBA along with other groups have volunteered thousands of hours hand finishing all of the trails. The trails are closed to bicycles November 15 through January 1 for hunting.
For a more complete history of the Que Trails, read Clark Fisher's perspective.
Join the Club!
Outreach. Excitement. Diversity.
Join a group of other bike junkies and raise the fun bar!  LHORBA is a great example of what bike clubs can and should be.  It's full of bike-loving, fun, enthusiastic, happy people wanting to connect with other club members on fun-filled rides.  When you join LHORBA, you become a part of the area's premier cycling organization with access to events, information, and a network of like-minded cylists.
Join