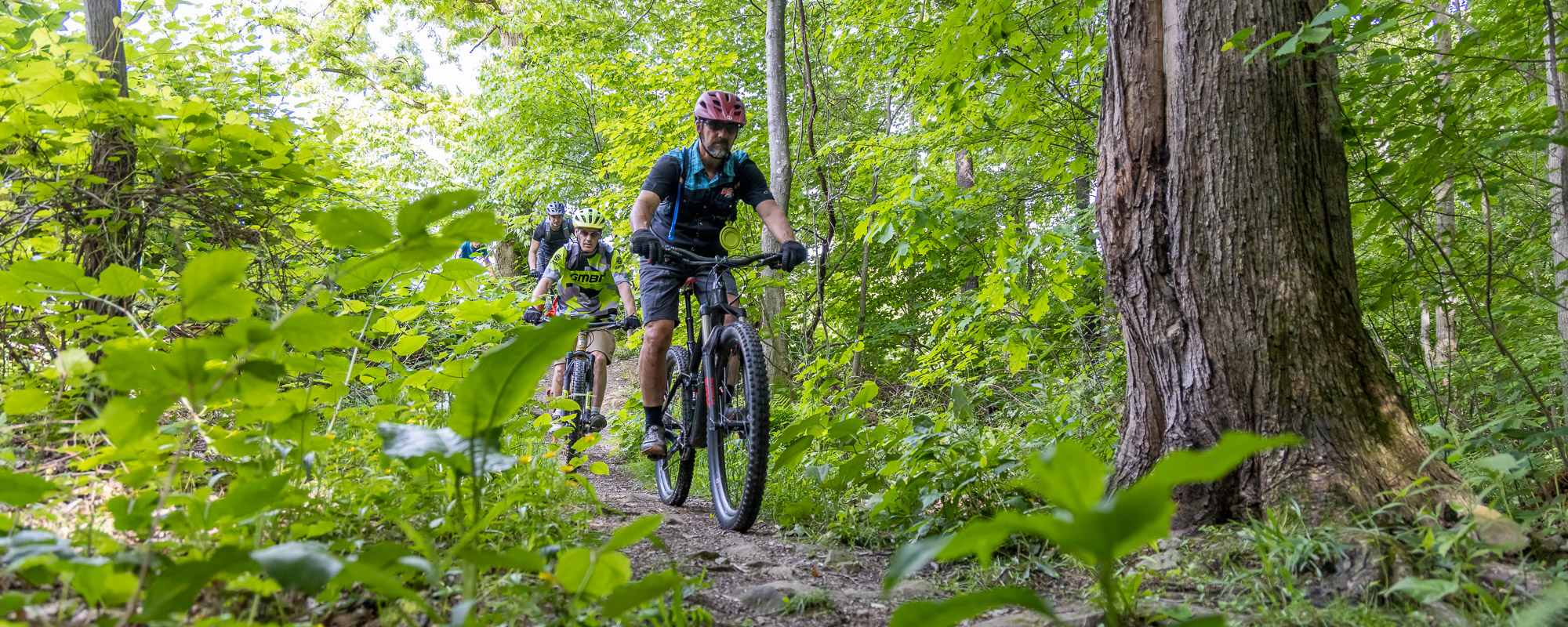 Highland Regional Park is a community park located along Richland Township, Stonycreek Township & Geistown Borough in Johnstown Pennsylvania. The park has 137 acres of woodland, ball fields and picnic areas in additional to the mountain bike trail system. Mountain bicyclists in the region will find its central location perfect for an after work ride.
At Highland Park you will find tight twisty turny singletrack for riders of all skill levels. Advanced riders will be challenged by the burly rock gardens, logs and skinnies. Riders of all abilities can enjoy the tight, narrow and fast flowing intermediate trails. In addition there is a wider yellow blazed trail that circles the park and is perfect for beginners.
All of the singletrack trails at Highland Park were designed and flagged by Laurel Highlands On & Off Road Cycling Association (LHORBA) members Clark Fisher, Rich Maher and Mike Mucker. The trails were then hand built, marked and signed by the dedicated and hardworking members of LHORBA.
In addition to being the location for many of LHORBA's Tuesday Night group rides and other events, Highland Park is also the "home field" of the Johnstown Ridgebacks. The Ridgebacks, who were founded and are coached by LHORBA Key Person and Vice President Rich Maher, is the region's first interscholastic mountain bike team. They compete in the Pennsylvania Interscholastic Cycling League (PICL) which is part of the National Interscholastic Cycling Association (NICA). Rich is responsible for getting the program organized from the ground up. It has been a fun and challenging new sport for area students from grade 6 to grade 12 and is a huge success.
In addition to all of the mountain bike trails Highland Park also has a well-designed BMX track. The track is open to the public when there is not an event taking place. The track has been a great way for young mountain bikers to enjoy a different type of bicycling.
So if you are a seasoned mountain bicyclist or a beginner rider the trails at Highland Regional Park will offer you trails that will be fun and suit your abilities.
Join the Club!
Outreach. Excitement. Diversity.
Join a group of other bike junkies and raise the fun bar!  LHORBA is a great example of what bike clubs can and should be.  It's full of bike-loving, fun, enthusiastic, happy people wanting to connect with other club members on fun-filled rides.  When you join LHORBA, you become a part of the area's premier cycling organization with access to events, information, and a network of like-minded cylists.
Join